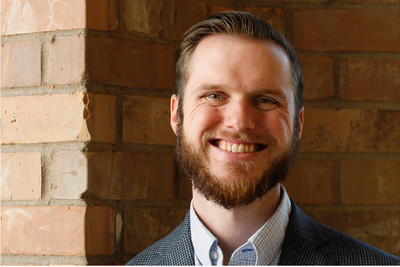 Acts 2 Staff
Rev. Andy Nelms
One Church Campus Pastor
About Andy
Reverend Andy Nelms joined the Acts 2 UMC staff as the Associate Minister of Discipleship in June 2014.
Andy has a passion for ministry with people of all ages, but especially with young adults, youth and children. Ever since discerning his call to ministry at an early age in the small town of Coweta, OK, he has felt the desire to relate the Gospel in new and exciting ways. As a 27 year-old pastor, Andy is ready to share the Christian faith with a fresh perspective to both the non-religious and seasoned Christians alike.
Andy married his wife, Melissa, in August 2009. They have one daughter, Annaleigh, and one dog, Bailey.
Andy received his Bachelor of Arts in Religion from Oklahoma City University and his Master of Divinity from Saint Paul School of Theology. Prior to serving at Acts 2, Andy served at Nichols Hills United Methodist Church as the Associate Minister of Young Adult and Youth Ministry.
Andy enjoys spending time with his family, reading, video games and coffee.
Get to know Andy
What do you like to do in your spare time?
I relish any moment I get to spend with my wife, Melissa, and my daughter, Anna. I love teaching Anna to play soccer though she hasn't quite got the concept down yet. Melissa and I also enjoy reading together and the occasional binge watching session on Netflix. To the chagrin of my wife, I enjoy playing video games.
What made you decide to get involved in ministry work?
I knew from an early age that I was called into ministry. I believe it began when Rev. Allen Carson was appointed to my small country church of Coweta, OK. Allen was a young man with a young family, and he was a kid at heart. He and I got along really well. Every once in a while I would go with him to visit the kids who were in in-school suspension. Reaching out to these kinds of kids was a calling of his and it was inspiring to watch him interact. When I saw that, I knew I wanted to do something like it.
I knew that God had placed a passion for ministry in me, and I wasn't about to let it go by. I began to discern my calling into ordained ministry. Allen became my mentor, and we walked through that process together. I felt this call affirmed by God again and again, and I decided to go with it.
What inspires you?
I feel inspired by good movies, good music and good books. Most recently, I have felt inspired by St. Vincent starring Bill Murray and Melissa McCarthy. The story of the love one feels for one's friends will never cease to be inspiring. I have also recently felt inspired by the song "Making Money" by Ben Rector. Ben is truly a prophet in his own right. Finally, I have felt inspired by the book Crazy Close by Donald Miller. Miller shows what it takes to create truly connect with another person, and I love it!
Who is a hero of yours?
My hero is my late father, Jerry Nelms. My father passed away in January 2013 when I was 24. It was a tough time, but I will always be comforted by his memory. My father owned the small doctors office practicing family medicine in our small town of Coweta, OK. This was enough for him to gain the respect of most of the residents, but my father went above and beyond. He not only practiced medicine in his office, but he did house calls and was at the beck and call of his patients around the clock. In short, my father was a good man. I will spend the rest of my life attempting to be as good a man as he.
What is something quirky about you?
Something quirky about me is that I love to sing. Not only do I enjoy singing praises in worship, but I enjoy singing whenever and where ever I may be: in the office, in the shower, in my car, in public, etc. The goofier the song, the better! I may even throw in a dance or two. It's not that I'm an exceptional singer or anything – I just really enjoy catchy songs that make me and others smile.
What is your favorite Bible verse?
Luke 4:18-19
"The Spirit of the Lord is upon me,
because he has anointed me
to bring good news to the poor.
He has sent me to proclaim release to the captives
and recovery of sight to the blind,
to let the oppressed go free,
to proclaim the year of the Lord's favor."
Jesus reads these words from the prophet Isaiah before he begins his ministry in his hometown of Nazareth. I consider these words to be the mission statement of Jesus. These words cause me to wonder, "What would the church look like, if we focused on the things Jesus cared about? What would the church do differently? What would it do the same?" I believe that we can spend the rest of our lives trying to fulfill these words. What a way to spend a life!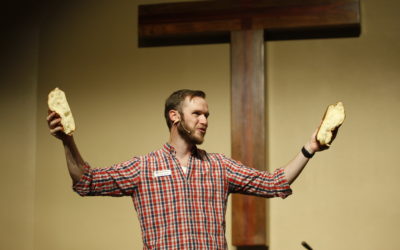 My dad knew the power of sharing a meal together. He enjoyed sitting around the dinner table as a family and especially with guests. Our guests would often hear him say, "Better have some more…" as soon as they finished the food on their plate. This would continue...
read more