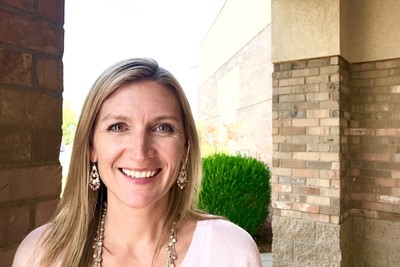 Acts 2 Staff
Cathy Meyer
CDO Director of Registration and Tuition
About Cathy
Cathy and her husband, Andy, first discovered Acts 2 UMC in 2006, when the Air Force assigned Andy to Tinker AFB. She was expecting their first child, and they were thankful to find such a welcoming community to get connected.
Cathy began working as CDO Director of Registration and Tuition in May 2017, after moving back to Edmond in January 2017 with her family.
Cathy and her husband both grew up in rural Indiana, and met while attending Purdue University, where Cathy graduated with honors with a Bachelor of Science degree in early childhood and special education, with a minor in child health. She later attended the University of Alabama and earned her Master of Science in Human Environmental Sciences, focusing on Child Life.
Through her years as a military spouse, Cathy used her degrees to work with children and families in many settings, including church-based preschools and children's hospitals as a Child Life Specialist. Her passion has always been helping others in their time of need, especially children.
Cathy has three boys and one girl, who keep her very busy. She is also mom to Brady Thomas, who lived for 13 days and forever changed the hearts of many, but especially his family. They know he is with God until they meet again, and are honored to share their testimony of faith through Brady's story.
Get to know Cathy
What strengths do you feel you bring to Acts 2?
I truly feel God gave me an outgoing and flexible personality to help prepare me for the challenges of being a military spouse. As a newcomer many times, I have a heart for helping others find their place within their community and making fast, authentic friendships. My love for children helps me manage my own crew with patience (most of the time), and inspires me to support parents as they navigate those early childhood years. My mission since the loss of our son has been to share the hope of Jesus with the world.
What do you like to do in your spare time?
Spare time is a relative term in my home, but when I am not spending time with our children, I enjoy reading and quiet time. We lived in Pensacola, FL, recently and my love for the ocean grew. However, being a farm girl, I still enjoy sitting on the front porch watching a beautiful sunset over the countryside just as much. My husband and I also like to travel together for short getaways when we can.
What made you decide to get involved in ministry work?
The love and support that Acts 2 has shown our family over the years could never be repaid, but I knew that I could pay forward some of that ministry through my position as CDO Director, alongside my long-time friend, Mandy. My passion is children, and I know firsthand how hard those 3 and under years can be as a parent. My goal is to help every family who enters our program to find the community support they are looking for, and provide a solid foundation for these children for their school years ahead.
What inspires you?
I am inspired daily by people I meet, or even read about, who choose hope in their darkest hour. Also by acts of kindness in everyday life, friends, family and watching our children grow into unique creations of God. When I see the selflessness of many military families as they endure months apart, I am humbled and encouraged to continue on this path God has chosen for me, and to do so with confidence and peace.
Who is a hero of yours?
My husband and children.
What is something quirky about you?
I am left-handed, I love hot tea and I have cold hands most of the time.
What is your favorite Bible verse?
"Be joyful in hope, patient in affliction, faithful in prayer." -Romans 12:12