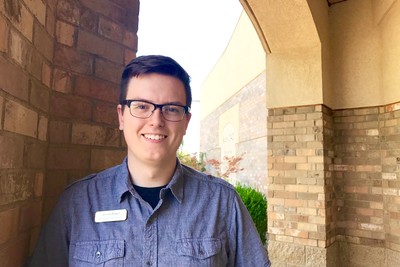 Acts 2 Staff
Jerrod Baker
Youth Director
About Jerrod
Jerrod Baker joined the Acts 2 UMC staff as the Assistant Youth Director in July 2017 and was promoted to serve as our full-time Youth Director in May 2018.
Jerrod is passionate about working with junior high and high school-aged youth. Since his sophomore year of high school, he has understood his call to work with students as they prepare themselves for adulthood.
Born and raised in the small town of Coweta, OK, Jerrod is the youngest of three brothers and has grown up in a Methodist household. Jerrod received his Bachelor of Science in Secondary Education from Oklahoma State University in May, 2018. He graduated with honors and in the top ten percent of his class. While at OSU, Jerrod was very active in the Wesley Foundation and served as the Ministry Programming Intern for a year where he helped start multiple programs.
Jerrod enjoys spending time with friends, reading comic books and playing video games.
Get to know Jerrod
What strengths do you feel you bring to Acts 2?
Since I'm coming to the end of my college career, I will be able to bring some fresh perspectives on how to interact with the youth and to cater to their needs. My degree has also prepared me for interacting with youth from 6th-12th grade. I can be very energetic when needed which is helpful with this age group.
What do you like to do in your spare time?
In my spare time, I enjoy reading comic books and playing video games. I also tend to hang out with my friends a lot when they are around.
What made you decide to get involved in ministry work?
There have always been hints throughout my life that have made me consider becoming involved in ministry work. My older brother and his wife spent a few years as missionaries in Uganda which had a huge impact on my life. During my time in college, I also became highly involved at the Wesley Foundation where they began putting me in positions to run parts of their ministry.
What inspires you?
Many different people in my life inspire me. My father inspires me in the family aspect of life, my brother inspires me in the spiritual aspect of life and Reverend Michael Bartley at OSU inspires me in the communal aspect of life.
Who is a hero of yours?
There are many ways to take this question. In terms of super heroes, Spider-Man is a hero of mine. In terms of a "church answer," it is obviously Christ. In terms of someone who I have always looked up to as a hero figure in my life, I would have to say my father.
What is something quirky about you?
I am a huge nerd who is often times socially awkward.
What is your favorite Bible verse?
It's hard to pick just one, but a few of my favorites include the following: James 4:12, Deuteronomy 10:18-19, Psalm 103:16 and the entire chapter of 1 Corinthians 13.