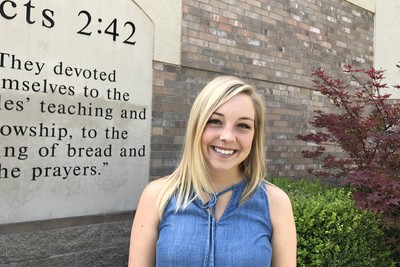 Acts 2 Staff
Megan Engelhard
Children's Director
About Megan
Megan Engelhard joined the Acts 2 family in June 2018 as our Children's Director!
Megan comes to us after having just completed her Masters in Psychology at the University of Central Oklahoma. She received her Bachelor of Arts in Music with a minor in Psychology and a certificate in Child Advocacy Studies from Oklahoma City University in 2015. She has worked with programs like Positive Tomorrows, Project Transformation and multiple children's choirs.
Megan has been on staff in the Children's Ministry at Chapel Hill United Methodist Church for several years and has a passion for sharing the love and light of God with children. She has the beautiful heart of a servant and a joy that is contagious. She enjoys spending time with her friends, hiking with her dog, playing guitar, and getting her nose stuck in a book.
Get to know Megan
What strengths do you feel you bring to Acts 2?
I am hard-working, driven, and upbeat! I put my all into the work I do, and I do it with a smile!
What do you like to do in your spare time?
I love walking/hiking with my dog, reading, playing guitar and spending time with my friends!
What made you decide to get involved in ministry work?
I've been involved in church activities my entire life, but my first experience in direct ministry with kids was when I directed the children's choir at Chapel Hill UMC. Before I knew it, I was also directing the children's bell choir, volunteering during Sunday School hour, serving on the Children's Ministry staff, and helping run Vacation Bible School and Project Transformation! It was like an avalanche of children's ministry! I fell in love with it, and I haven't looked back.
What inspires you?
When people ask me what I want to do when I grow up, I always tell them I want to have a positive impact on others. When people work together to help others and to have a positive impact on the people around them, I am filled with joy. Whether it be helping at a food bank, volunteering at a church event or simply smiling at a stranger when passing by, I am inspired by intentional service. Being around people who live their lives with an attitude of service inspires me to continue to do the same.
Who is a hero of yours?
My grandfather! He taught me how to count, how to drive a car and how to have integrity in everything I do. He was the steadiest, hardest-working man I knew.
What is something quirky about you?
I didn't try popcorn until I was almost 20, and it's now my favorite snack!
What is your favorite Bible verse?
2 Timothy 1:7