This upcoming Friday, Aug. 31, is one of my favorite Fridays to worship at One Church: College Colors Night. This is that special time of year where we come to worship dressed in our favorite school colors and thank God for the gift of college football.
I, for one, give thanks that we live in a place where 18 to 22-year-olds who are enrolled at an institution of higher learning can devote a Saturday not to studiously reviewing notes, reading, or completing homework, but instead to strapping on plastic armor and hitting one another as hard as they can, all for my enjoyment. Yes, Labor Day weekend is upon us and that can only mean one thing: college football is right around the corner. And as a community of faith, we are thankful.
Okay, I know this is a bit tongue-in-cheek, but I am truly excited for the beginning of college football season, and I hope you are too. At One Church, we are going to do something really special this Friday to usher in this special season. At 6:30 p.m. this Friday, Aug. 31, we will celebrate College Colors Night at One Church. Here's what that means:
Come to worship in your best college colors. The crazier the better! If you're one of those people who paints their stomach and wears a Viking helmet, wear that. If you're an incognito fan who keeps your jacket over your school's colors only to reveal your allegiance when your team is in the lead, do that. Or just come in your favorite t-shirt! Everyone is welcome to worship at One Church in their college colors, whatever that means for them.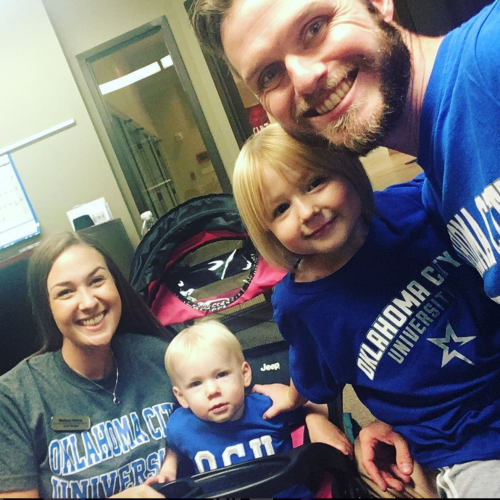 We will also be led in worship by the talented Liam Bernhard. If you haven't gotten a chance to be at One Church while Liam is leading, you are really missing out! Liam leads worship on Sundays at Crestwood Vineyard Church in Oklahoma City. He is also gracious enough to come to One Church on special Fridays and share his gifts. It's going to be a powerful time together that you won't want to miss. During this Holy Spirit-inspired worship, while we are united through our different collegiate affinities, we will recognize that our differences do not define us. Only our identity in Christ defines us.
During worship, we will also award a $25 Academy Sports + Outdoors gift card to the first three people who are brave enough to sing their school fight song in front of the congregation! Fans are welcome to participate as individuals, groups or even families. If you sing your alma mater in operatic fashion not only will you win a gift card, but you will also have my respect. Be ready at the end of worship to separate yourself as a true and loyal fan by singing your school fight song!
It is my hope that you will not come alone. I pray that you will bring friends, family, neighbors and co-workers who do not have a church home to College Colors Night. Creating a new community for new people is the entire reason One Church exists, and this special Friday is no different. We know that a good fit is hard to find. Maybe, just maybe, a church that throws a College Colors Night party will be a good fit for your friends and family who do not have a church home.
See you this Friday!