By Megan Engelhard
In the hustle and bustle of the holiday season, it is easy to become distracted and lose sight of what truly matters on Christmas. This is especially true for little ones who can't wait to see what Santa brings them! While it is fun to talk about Santa and to see the excitement in children's eyes as they open their presents on Christmas morning, it is also important to keep their minds and hearts focused on Jesus as we approach the celebration of His birth. Christmas is a time when we celebrate God's love for us and spread this love to others.
Explaining to young children that Christmas is Jesus' birthday instead of just the day Santa brings them toys can be a difficult task during a season that is surrounded by materialism. So how do we keep our children focused on the meaning and the spirit of Christmas with all of the distractions of Santa and toys that bombard them throughout December? Here are a few ideas below to help you out!
Use an Advent Calendar
First, using an advent calendar like this one can help redirect focus towards Jesus as Christmas approaches. The calendar I shared has a different Bible verse for each day that you can cut out and read as a family.
Some fun ideas to incorporate the verse into your schedule include sending the cut-out verse with your child in their lunch box, hiding a verse under a dinner plate each night for a family member to read, or reading the daily verse together and praying before bedtime. The opportunities for creativity and fun with this calendar are endless!
Reading one Bible verse each day is a simple, short activity you can use to prepare your family's hearts for Christmas. By making this activity creative and fun, your child might end up looking forward to reading the verse each day!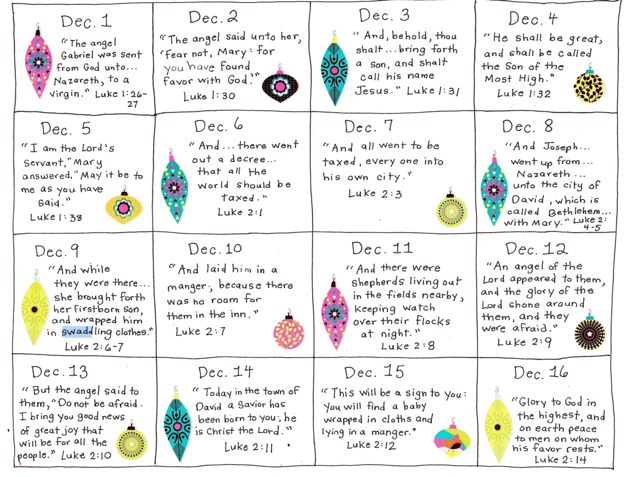 Create an Offering Jar
Second, you can create an offering jar and put coins or bills in the jar each day during Advent. I have encouraged the children in our church to put the number of coins or bills corresponding with the day of the month in the jar each day (one coin or bill on December 1, two coins or bills on December 2, etc.).
The children in our church are giving their jars to their teachers during our Community Candlelight services to contribute to our Christmas Eve offering, of which 100% goes to support local and international missions.
I made my jar by simply writing "Offering Jar" on an old mason jar I had in my kitchen. The children can decorate their jars, or simply use a bowl or a cup to collect their offerings!
Serve Others
Finally, I encourage you and your family to set aside one day when you can volunteer and serve your community. One of the most powerful ways to teach children about the significance of Jesus' coming and His love for us is to teach them to follow in His footsteps. What better way to do this than by teaching them to give back to those in need through hands-on service? In the Edmond area, children and their parents can serve at Project 66, the Regional Food Bank (for children 8 years and older), or at our Community Candlelight services.
Teaching your children to serve in their communities at a young age instills a sense of service and love that sets them on a path to follow Jesus more closely as they grow up.
I hope these tips help you and your family prepare your hearts and minds for the celebration of Christmas so that you can experience the hope, peace, joy, and love that came into the world at his birth.