By Melissa Nelms
Stifling heat. Long days. Hard work. A little blood, a little sweat, and a whole lot of Jesus. Sounds like the perfect way for a group of teenagers from Edmond, Okla. to spend a week of summer vacation. Well, maybe not, but Hailey Grimmett and her friends can't wait to go back next summer. Why? Because working on a hot roof in Memphis, Tenn. is where she experiences God.
Last June, Hailey and a group of 17 high school youth and 7 adult leaders from Acts 2 spent a week partnering with Service Over Self (SOS), an organization that has been roofing houses for 30 years with the love and labor of thousands of volunteers. They provide safe, dry homes for homeowners in the Binghampton and Orange Mound neighborhoods in Memphis, Tenn.
Hailey heard about the mission trip from a friend about two years ago when she started attending Acts 2 as an 8thgrader. After being baptized and confirmed with her family the following year, Hailey still had a lot of questions about her faith and belief in God. While at SOS, she felt herself not only becoming physically stronger, but spiritually stronger as well. "SOS is really where I felt the love of God for the first time," she said. Though her friends outside the church might see the experience as a week wasted, she views the trip as an opportunity to grow closer to her friends, her leaders, and God.
She was grateful to be on a work team with the new Youth Director, Jerrod Baker. While shingling the roof they swapped stories, shared life experiences, played jokes, and built bonds that continue to grow. She was even encouraged to share her testimony during the week, which helped her realize the impact her story has on the lives of others. "Everyone has a light inside of them, and to see the light of God in other people is important."
Hailey saw this light in the face of the homeowner her work team partnered with this summer. The homeowner was a single woman raising her grandchildren, and Hailey spoke of how blessed they felt by the woman's son and grandchildren. As the team worked, the grandkids would come out with smiles and popsicles to share.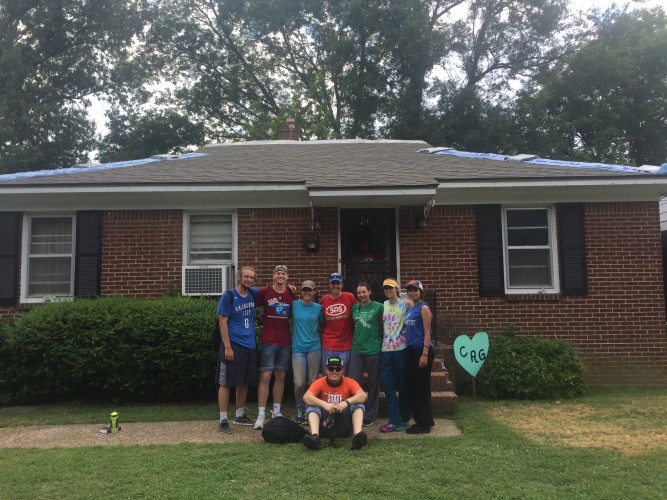 At the end of the week the team brought the homeowner out to the front of the home to see the progress they'd made. Their new friend beamed when she looked up to see the new roof nearly half complete after just one week. "Seeing the smile on the homeowner's face is really rewarding," Hailey said. "It's hard work, but it pays off, and it's a lot of fun."
Having partnered with SOS the past two summers, Hailey views things differently now. "I learned that your wealth isn't just material. You can be rich in faith and community. It's not just money and material things." She takes less for granted. She sees God in everyday life. She serves with joy every opportunity she gets: as a youth mentor for the Confirmation class, in the Children's Ministry at church, and in monthly youth service days. She enjoys serving communion during worship. She serves, and she feels closer to God. "You can't just go to church. You have to act out your faith." She knows the world would be a better place if people practiced this attitude of service.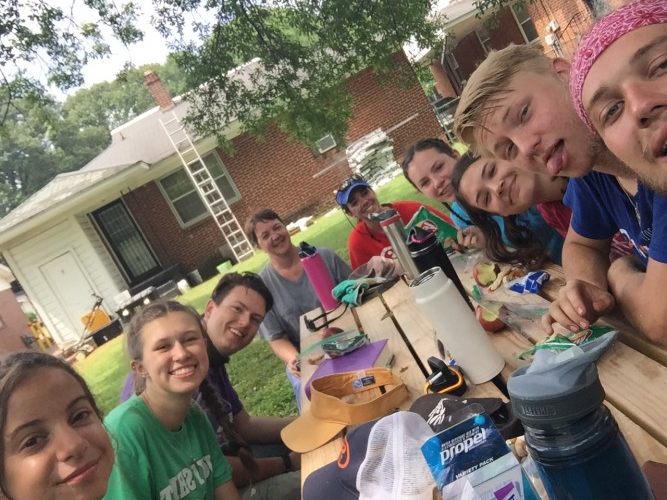 If you'd like to experience God, share love and light, and provide a safe, dry home for a family as Hailey and our youth have, I invite you to prayerfully consider going to SOS with our high school youth next summer or sponsoring a student to have the experience. You can attend the informational meeting on Sunday, September 23rd to learn more about how to register for this life-changing mission opportunity.