By Melissa Nelms
As a community at Acts 2, we remember our strategy together in worship every week found in Acts 2:42 where it reads, "They devoted themselves to the apostles' teaching and to the fellowship, to the breaking of bread and to prayer." This perfectly describes our worship experience each weekend as we gather to connect with God through Scripture, preaching, prayer and Communion. It's through the connection with God in worship that we receive our holy fuel, our Holy Spirit power, to go out and then connect with others.
When you continue reading in Acts chapter 2 you come to verses 44-47, "All the believers were together and had everything in common. Selling their possessions and goods, they gave to anyone as he had need. Every day they continued to meet together in the temple courts. They broke bread in their homes and ate together with glad and sincere hearts, praising God and enjoying the favor of all the people. And the Lord added to their number daily those who were being saved."
Their connection to one another grew out of, and was fueled by, the connection they experienced with God in worship in the temple. But it didn't remain in the temple. They were empowered through their connection with God to move out into the temple courts and then to one another's homes and then into the larger community where they enjoyed "the favor of all the people." They enjoyed this favor in the community because people outside the temple courts started noticing that these people lived life differently. They lived life fully in connection with one another. They shared with one another, served one another and opened their homes to one another. In short, they did life together.
At Acts 2 this is the life we invite you to live. A life of abundance. A life in connection with God and in connection with others. We often talk about worship +2 at our Exploration events. Worship +2 is an invitation to find a place to worship, a place to learn and a place to serve. We truly believe that when we are practicing these three things, we are living life abundantly and it causes others to stop, notice and ask themselves what it is that makes this group of people different from everyone else – maybe it's something worth checking out, worth doing differently with them.
Worship
If you haven't found a place to worship, we invite you to check out one of our three worship opportunities – a place for you and your family to connect with God in a real and meaningful way. One Church is our church within a church led by Campus Pastor Andy Nelms at 6:30 p.m. on Friday in the chapel. This is a community for new people seeking to change the world with the love of God, and you are always welcome to that worship experience. Acts 2, led by Founding Pastor Mark Foster, worships at 9:15 a.m. and 10:45 a.m. every Sunday in the sanctuary. For nearly 20 years, Acts 2 has existed to help non-religious and non-active Christians become radical Christ followers and we believe this can happen through a personal connection with Christ in worship. However, it's often easy to slip into worship, get your Jesus and slip out without engaging with anyone else. That's how it's designed, to connect us to God not necessarily to one another. The connection to the community happens outside the doors of the sanctuary and often times outside the walls of the church. That's why in addition to worship we invite you to find a place to learn and a place to serve as well.
Learn
There are many learning opportunities for children, youth and adults at Acts 2 and One Church. Children's programming for Pre-K through 5th grade is offered every Sunday and Wednesday throughout the school year. There are also occasional studies for our older elementary students like the 4th and 5th grade girls Bible study that has been meeting this year. Our youth are invited to participate in Confirmation, Sunday morning Bible study or Wednesday evening small groups. For adults we have amazing long-term Bible studies like Alpha and Disciple Bible Study, as well as other short-term studies like Financial Peace University, studies specific to the sermon series and our two ongoing women's Bible studies that work through several short-term studies each year. We have multiple small groups that engage in reading, discussing Scripture and seeing how it applies to life today – groups for people of all ages and stages in life.
We know a good fit is often hard to find so if you want more information you can visit findyourplace.acts2umc.org for more information on any of these learning opportunities or contact me directly at . It would be my joy to help you connect in a meaningful way with others in our community – to find people with which to do life.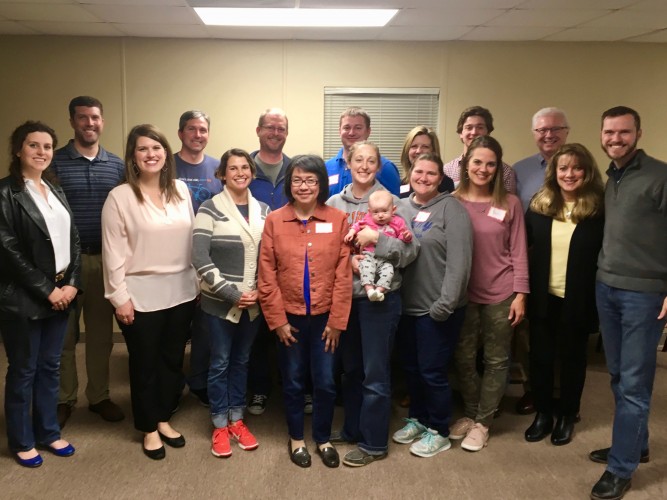 Serve
It has been my experience that some of the strongest bonds in life are forged in the service of others. When we connect and humble ourselves together with the goal of serving and seeking justice, healing and hope for those in need around us we are united by something much greater than ourselves. You don't have to have a personal relationship with Jesus Christ, extensive knowledge of the Bible or a disciplined prayer life to recognize there is a broken world around us in need of help and hope. So, whether you've been in church your entire life or you've never been before, we are all able to step out and serve someone. We can all go to a food bank, collect clothes and donated items in times of natural disaster, build a habitat house, distribute blessing bags or do yard work for a shut-in. We can all serve somebody, but the beauty of doing it in partnership with others is that it creates deep connection and community that leads to deeper connection with Christ as well.
Worship and learning are not a prerequisite to serve in and through Acts 2 or One Church. However, we pray that in serving with us that you are encouraged to connect in worship and learning as well as we strive to live this Christian life together. There are opportunities like Living Water mission trips to Guatemala, monthly youth service days and volunteer opportunities in the children's ministry, youth ministry, hospitality and worship. We know that many of you are already connected with other service organizations in the community like Mobile Meals, Tenaciously Teal, YMCA and others. Our favorite thing is when we have people come and share their passion with us and invite us to come alongside them in those places already at work in the community. If you're looking for a place to serve or want to share your passion with us and others in our community, we invite you to visit our website or contact me directly at .
No matter where you connect or whom you connect with, we invite you to do so with glad and generous hearts as we participate in the very transformation of the world.