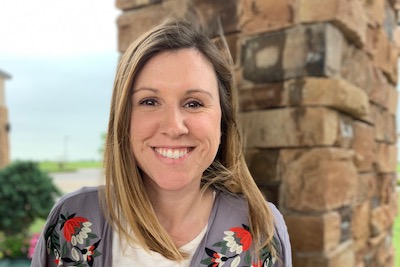 Acts 2 Staff
Meagan Durham
Children's Director
About Meagan
Meagan and her husband Nic started attending Acts 2 in the summer of 2014. At that time, their daughter Kate was 3 months old. Since then they have grown to a family of four—Cannon was born in 2016. As a family they all love swimming, traveling, and Netflix movie nights.
Meagan graduated from Oklahoma State University with a degree in Elementary Education. She spent 4 years teaching before becoming a stay-at-home mom. She joined the Acts 2 staff as the Children's Director in 2019, and the position gave her the opportunity to combine her love of teaching and being in a classroom with sharing the Gospel.
Get to know Meagan
What strengths do you feel you bring to Acts 2?
I feel that I am a welcoming presence to the families and children who enter Acts 2. I have a child who deals with separation anxiety, and I understand that going to children's programming can be scary at first.
What do you like to do in your spare time?
In my spare time I enjoy crafting, calligraphy, being outside with my family, and reading.
What made you decide to get involved in ministry work?
Leadership in Acts 2's Mothers of Pre-Schoolers ministry started it all. From there, I loved being a part of the Acts 2 team. After directing VBS, it was an easy "yes" to transition into ministry work as a member of the church staff.
What inspires you?
My kids and their resilience inspire me. My husband and I lead a non-profit helping teen parents continue their education. Those teen parents inspire me.
 What is something quirky about you?
I have a fear of cotton balls and tap water, especially if it has been sitting out for
a while.
What is your favorite Bible verse?
Proverbs 31:30: "Charm is deceitful, and beauty is vain, but a woman who fears
the Lord is to be praised."