Find Your Place at Acts 2
For more information about small groups, please contact Melissa Nelms.
Email Melissa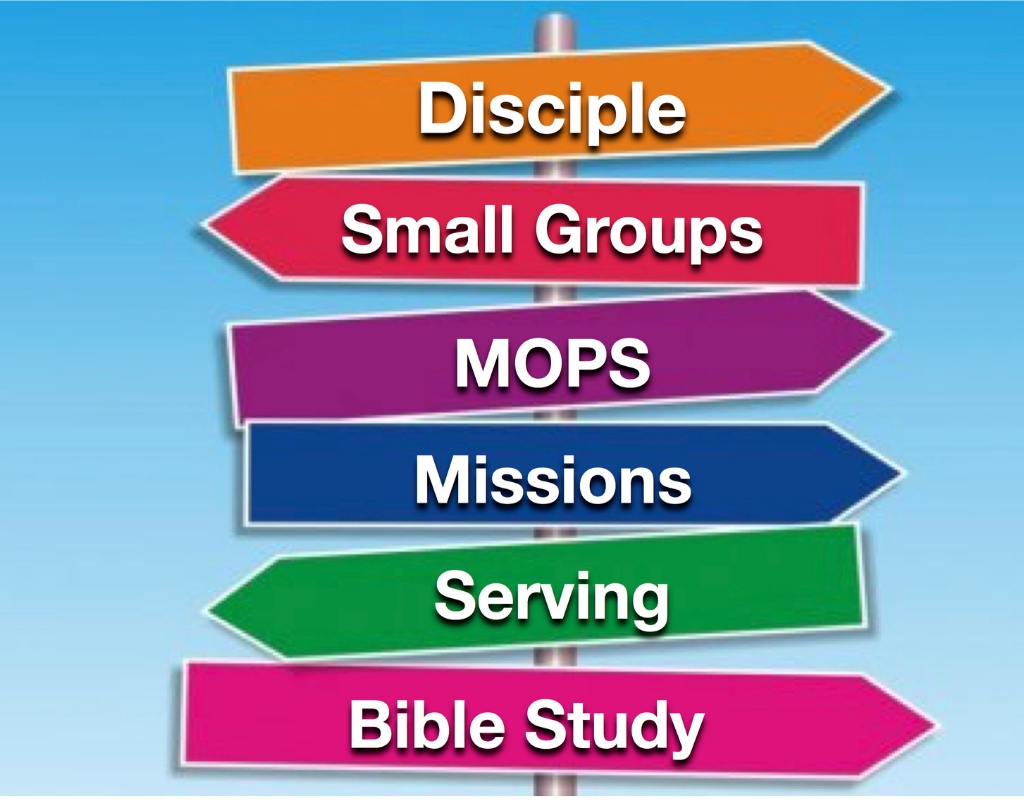 Yoga for Anyone
Contact: Cherie Hightower
Meeting Time: Mondays from 9:30-10:45am
Dates: Jan. Feb. 4 – Mar. 11, 2019
Location: Gathering Space
Childcare provided
Yoga for Anyone is a yoga class focused on breath work, meditation and flexibility for people of all ages, experience, and levels of mobility. It's literally for anyone! Modifications are available for every position and practice including chair yoga for those with limited mobility and flexibility. Common benefits participants experience includes: increased flexibility, strength, improved posture, better concentration, and basic knowledge of yoga practice.
Women's Bible Study: The Best Yes
Contact: Shareese Poplin
Meeting Time: Tuesdays from 9:30-11:30 a.m.
Date:s Feb. 26 – Apr. 9
Location: Classroom 4
Childcare provided
Do you find yourself spending a lot of time figuring out when to say yes and when to say no, thinking about how to manage your time, reduce stress, do your best for your family, find a little time for yourself? In this six-session study, Lysa TerKeurst uses her signature mix of transparency, Scripture-laced insight, and "been there" humor to suggest usable strategies for making wise decisions day by day.
Women's Bible Study: Living a Life of Worship
Contact: Gretchen Reasner
Meeting Time: Wednesdays from 9:30-11 a.m.
Dates: Jan. 9 – Feb. 28, 2019
Location: Classroom 3
Childcare provided
Discover how thankfulness and worship always open the door for entering into God's presence and blessings. Even the most routine part of your day can be a spiritual act of worship when you are living close to God, and seeing from His perspective will allow you to truly be able to "give thanks in all circumstances" (1 Thessalonians 5:18).
Contact: Rev. Andy Nelms
Orientation: Wednesday, Aug. 29 at 6:30 p.m.
Dates: Sept. 5, 2018 – April 3, 2019
Meeting Time: Wednesdays from 6:30-8:00 p.m.
Location: Sanctuary
Childcare provided
Participants in this study receive a thorough introduction to the Bible in 24 weeks. There are 12 sessions in the Old Testament and 12 in the New Testament. This study will run from Sept. 5, 2018 – April 3, 2019. Orientation will take place at 6:30 p.m. on Wednesday, Aug. 29.
Alpha
Contact: Melissa Nelms
Leaders: Gretchen Reasner & Brandi Dukes
Time: Wednesdays from 6:30 – 8:00pm
Dates: Jan. 16 – May 1, 2019
Location: Southwest Portable
Childcare provided
This study is an opportunity to explore the meaning of life. It creates an environment of hospitality to explore the Christian faith, ask questions, and share your point of view with others.
MoneyLife: Personal Finance Study
Contact: Melissa Nelms
Leader: Jeff Hedrick
Meeting Time: Wednesdays from 6:30 – 8:00pm
Dates: Jan. 16 – Feb. 27, 2019
Location: Southeast Portable
Childcare provided
MoneyLife is a curriculum developed by Crown Financial that takes a spiritual approach to managing finances. MoneyLife can be a great fit whether you're facing financial challenges or feeling really comfortable with your financial situation and seeking to grow and do even better. Through intentional prayer, scripture reading, basic financial principals and group discussion participants can learn how to become even better stewards of their resources to bless their family and others.
JOY Group (Older Adults)
Leaders: David Padgett and Jonalyn Padgett
Meeting Time: First Thursday of each month from 6-8 p.m.
Location: Acts 2 Gathering Space
No childcare provided
JOY Group is a lively group that meets together to enjoy a meal, a short devotional, and a service project/speaker/fellowship. Meals rotate between a potluck (each person brings a dish) and pizza or sandwiches (each person brings $5). The first time you attend JOY Group, dinner is free! Every third or fourth, the group meets on Saturday to do a service project or fellowship outing.
No registration required.
Contact: Melissa Nelms
Date: Sept. 6, 2018 – May 2, 2019
Meeting Time: First Thursday of each month from 10:00-11:30 a.m.
Location: Acts 2 Gathering Space
Childcare provided
All moms who have children in Kindergarten and younger are invited to be a part of MOPS. Our group meets on the first Thursday of each month during the school year. We connect moms all over the metro to a community of women who meet together to laugh, cry and embrace the journey of motherhood.
Acts 2 Men's Group
Contact: Scott Lindell
Meeting Time: First 3 Saturdays of each month at 7:30am
Location: Wild Bill's Donuts (2nd & Fretz)
The Acts 2 Men's Group gathers weekly in fellowship to share their lives and offer mutual support. They share their joys and burdens in a safe and confidential environment so they can improve their walk with Christ.
No registration required.
Covenant Discipleship Groups
Covenant Discipleship Groups are made up of 4-6 members of the same gender. They meet regularly and provide high accountability for spiritual growth by asking the questions:
At what moment did you feel closest to Christ this week?
At what moment did you feel you were responding to God's call to be His disciple this week?
When was your faith tested this week through failure?
What is your plan for spirituality, study, and action for the week to come?
Shared Interest Small Groups
Shared Interest Small Groups are made up of members, guests, friends and neighbors sharing a common interest. There is no membership requirement to participate and participants are encouraged to invite and include guests and friends seeking a church home. These groups meet semi-regularly around a shared interest and provide community and spiritual growth by asking the questions:
Where have you seen God this week?
How can we be praying for each other?
Ready to find your place?
Take the first step and let us know what small group you're interested in trying.
Contact: Chantelle Foster
At Acts 2, we believe it takes everyone working together to be the body of Christ. The business of being the church cannot move forward without the support of the people in it.
Contact: Rev. Brandon Blacksten
Acts 2 organizes several different mission projects throughout the year. These projects can range from local cleanup and painting jobs to out-of-state construction ventures. We regularly collect supplies for Infant Crisis Services, Prison Ministries, Troop Support, Hope Center of Edmond and the Regional Food Bank of Oklahoma.
Contact: John Hurd
Acts 2 is committed to spreading God's love by serving those in need. Approximately 748 million people in the world do not have access to clean drinking water, so we have partnered with Living Water International year after year to reach large groups of people who suffer every day without this resource that we can often take for granted.