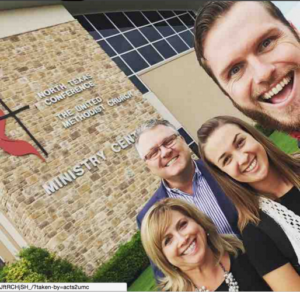 This week Mark, Chantelle, Melissa and I spent time in Plano, Texas, learning from Jim and Kim Griffith of Griffith Coaching. Jim and Kim have coached hundreds of church plants and church revitalizations to further the Kingdom of God. It was an exciting and uplifting time as we dreamed together what God has planned for Acts 2 and One Church in the coming months and years. Here's one of the biggest takeaways I received from this training: "ministry is a contact sport."
This was a quote from Jim Griffith as he talked about the kind of ministry that church planters (and all pastors) are called to. In ministry, we are called to come into contact with as many people as possible.  In order to make those contacts, we are going to have to do new things.  If we are not doing those new things, then we are not living up to the commandment of Christ (Acts 1:8).
Jesus told the disciples before he ascended into heaven, "…you will be my witnesses in Jerusalem, Judea and Samaria, and to the ends of the earth." Here's the thing, the disciples were used to going to Jerusalem and Judea. Those areas were comfortable to them. It was the "Samaria and the ends of the earth" that made them uncomfortable. Samaria represented the gentiles (or non-Jews) to the disciples. The ends of the earth had the same sentiments. Those were new and unknown places for them. Yet it was where Christ called them to go.
In the coming months and years, we are going to do some new things in some new places.  We believe it is where Christ is calling us to go.  I can't wait to get back and share what we have learned this week! Through all of our thoughts and prayers, we know that God has big plans for Acts 2 and One Church!
Pastor Andy