By Melissa Nelms
I grew up going to church camp every summer as a child and youth. Camp played a formative role in my walk to follow Jesus and in my call to ministry. It's one of those experiences where you can't help but see God around every turn – surrounded by creation, no cell signal, fewer distractions, encouraged by friends and leaders all seeking one thing – to grow closer to God. I'm grateful to be part of a church family who places such a high value on the camping experience for our children and youth and gives time and money to create that experience for as many campers as possible. This year, we sent more than 100 children, youth and adults to camp. We wanted to take this opportunity to thank you and share some of our camper's stories from the summer.
At Journey Camp in June, our junior high students spent a week at Camp Egan in Tahlequah, Okla. Our older youth had talked so much about the fun they'd had in previous years that sixth graders Brynlee Herzberger and Alazay Brickley couldn't wait to experience camp for themselves. They expected camp to be fun, but neither of them expected to connect so closely with God and their friends. Alazay said, "I believe in God. I understand it, but when I was there I understood more than ever. When the counselors were talking and asking questions, they were the questions I'd been asking my whole life and I started to get the answers. I could see God when they were talking."
Our youth director, Jerrod, and I were blown away by the questions and discussions these campers were having in small group, in workshops, on the slab and in the bunks at the end of the day. Many of them are sixth graders who will be going through Confirmation this year and digging deeper into the roots of their faith as they prepare to profess it for themselves before our congregation next spring. Camp was just the springboard for what is to come for these students this year.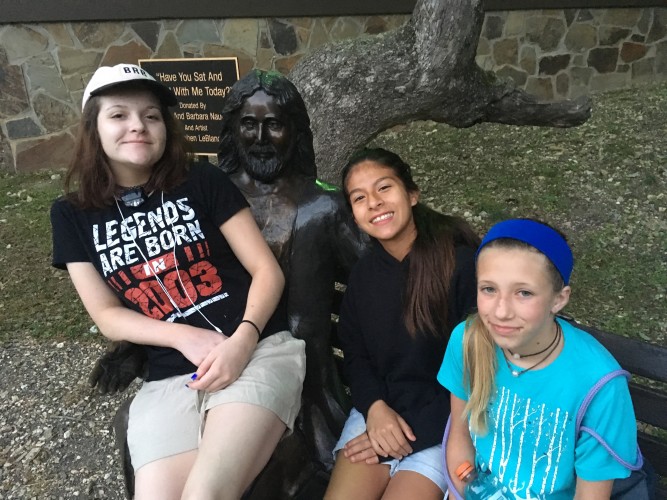 Each night at camp, we ask our campers to share where they saw God during the day. Brynlee shared that her most significant God moment at camp was Wednesday night at worship as a thunderstorm rolled through the area. In our open-air worship space, the campers watched the lightening strike and heard the thunder rumble low below the music and the message being given. Sometime during the service, we paused to move to an indoor space for safety as the lightening increased; however, this didn't hinder God's ability to reach our students in that moment. Brynlee described it as church breaking out as she huddled together with her friends in prayer and song. She said she had never had moments like that before at children's camp and so it was unexpected and special.
By the time our campers begin high school there seems to be higher expectations for the camp experience. God always shows up. Madie Blewett and Colin Miller were two of our senior high campers at Dayspring South down on Lake Texoma at Cross Point Camp this year. They both went to camp expecting to grow closer to God, to feel empowered to make real life changes and to strengthen their relationships with friends and leaders. Colin was especially looking forward to this year, as it was his last year as a camper after graduating from Santa Fe High School this past May. Colin spent his week hanging out with and ministering to his friend Josh Kuykendall. Pastor Mark Foster was their BASIC group leader for the week and said watching the two of them together was like getting a glimpse of the Kingdom of Heaven. They worshipped together, talked together, walked hand-in-hand to every activity, carried one another through low-ropes courses, tubed on the lake and prayed over one another in worship. Colin said he saw God in Josh throughout the week and counted it a blessing to allow Josh's mom Debbie, who was also there as a leader, an opportunity to rest and relax knowing Josh was surrounded by friends and camp leaders who loved and cared for him.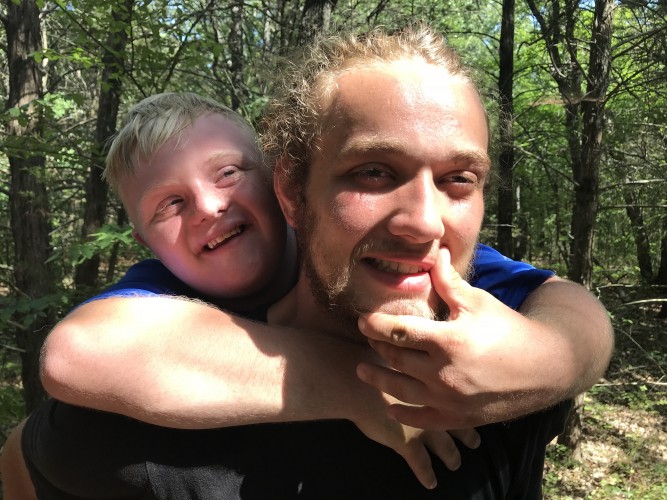 Madie was overwhelmed by the sense of community at camp as well. The bond she formed with not only her Acts 2 family, but also new friends from other churches around the state, was beyond her expectations. She was especially impacted by the accommodations made at mealtimes and Communion. She admitted that she's often afraid to go places not knowing whether the food provided will make her sick or not. She always has her own food and snacks at the ready. However, all the Communion bread was gluten-free, which allowed her to participate fully in ways she'd never felt safe doing before. And it was done in community with the whole camp as they received from the same loaf. God showed up to her in the simplest of preparations.
Madie's most significant God moment during the week came Thursday night during worship as she prayed with her sister during the final songs. She'd been asking God all week what she was supposed to do next with her life and in that moment she felt God speaking to her in an audible voice. God led her to focus on using her gift of writing and journaling to minister to others. She also felt empowered to continue leading her younger sister in relationship with God and Bible study. Trembling from the encounter, she came to Pastor Mark and I and we had the opportunity to pray over her and affirm for her what God had spoken to her heart.
Colin said it well, "God can work in your life without going to camp obviously, but it gives you a chance to open your eyes. Especially as a kid – giving God a chance every night to tell you something instead of sitting at home watching Netflix or going out with friends." He said, "It's changed me." As testament to this, Colin stood before more than 200 people that last night of camp and shared his testimony of how God has been at work in his life and will continue to as he moves off to college this fall.
So, the overwhelming advice from our campers – just go! And thank you to those who invest their time and gifts to make that trip to camp possible.